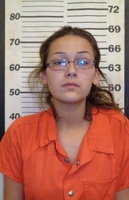 Alyssa Cheyenne Bird, 18, of West Mineral, Kansas was sentenced to more than 5 years in the Kansas Department of Corrections for her role in the 2015 stabbing death of Robin Fought.
In April, Bird entered a guilty plea to Conspiracy to Commit Murder in the First Degree. Cherokee County Attorney Jake Conard alleged Bird conspired with her mother, Crystal Galloway, and her mother's boyfriend, Dakota Cunningham, to lure Fought to a secluded area in rural Cherokee County where Galloway and Cunningham stabbed Fought multiple times and attempted to burn his body and vehicle.
At a preliminary hearing in June 2017, Conard presented evidence recovered from Bird and Galloway's cell phones. Text messages showed the two discussed the details of how Galloway and Cunningham would kill Fought, as well as digital images of the scene where Fought's body was later recovered. Bird also sent Galloway a digital image of a handwritten poem including the line "don't forget to murder Rob."
Galloway was convicted of murder following a jury trial in September 2016 and was subsequently sentenced to life imprisonment. Cunningham entered a plea to murder in May 2017 and was sentenced to nearly 14 years in prison. Birds is the final defendant facing charges.
"It is important for everyone, especially young people, to remember their words and actions have consequences," says Conard. "What started as an angry rant by this young woman led to the planning of a murder, and ended with an innocent man losing his life."