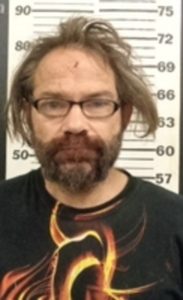 Murder charges have been filed against Harvey Raymond Ortberg, 49, of Baxter Springs, following the September 30th, 2017 incident which resulted in the death of Sharon Horn, 65, and injured three Baxter Springs Police Officers.
In a complaint filed in Cherokee County District Court, County Attorney Jake Conard charged Ortberg with eight felony offenses, including premeditated first-degree murder, two counts of attempted capital murder, aggravated arson, aggravated burglary, aggravated battery, and two counts of aggravated child endangerment. If convicted, Ortberg faces life imprisonment without the possibility of parole for at least 50 years.
Ortberg was taken into custody at a Springfield, Missouri hospital on October 13, 2017. Upon release from the hospital, Ortberg will be held in Greene County, Missouri to await extradition to Kansas. Upon returning to Kansas, Ortberg will be held in the Cherokee County Jail on a $1,000,000 bond.
The Cherokee County Sheriff's Office and the Kansas State Fire Marshal's Office continue to investigate the incident. As provided by the laws of the United States and the State of Kansas, Ortberg remains innocent until proven guilty in a court of law.