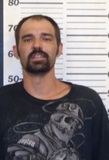 On September 17, 2018 Charles Gordon, 32, of Carterville, Missouri was convicted of two separate incidents of theft of commercial air-conditioning units in Cherokee County.
Gordon pleaded guilty to stealing two air-conditioning units from 4-State Liquidation in Galena on March 3, 2018, causing more than $30,000 in damage to the building. Investigators with the Galena Police Department obtained surveillance footage of Gordon loading the units into the back of a silver pickup truck.
Gordon also pleaded guilty to stealing three air-conditioning units from a church near Galena, causing more than $12,000 in damage to the building. Detectives with the Cherokee County Sheriff's Office collected tire impressions from the scene, which matched the tires on Gordon's silver pickup truck. Law enforcement also obtained video evidence of Gordon selling copper and aluminum metal in Joplin, Missouri on the dates of both thefts.
"Copper thieves are a particular nuisance to the community because they cause thousands of dollars in damage for a few hundred dollars worth of metal," says Cherokee County Attorney Jake Conard. "Fortunately, the Kansas legislature has recently passed laws increasing the severity of the punishment for crimes involving the theft of scrap metal," concluded Conard.
Gordon will be sentenced on November 19, 2018 in Cherokee County District Court.