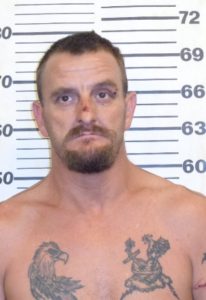 On October 15, 2018, Ronny Ray Piercefield entered guilty pleas to two counts of Arson in Cherokee County District Court. The charges stem from two separate fires set earlier this year.
On March 15, 2018 an officer with the Galena Police Department responded to a grass fire on North Jefferson Street. The fire eventually engulfed a small structure in the area. The officer detained Piercefield, who was running away from the blaze with a cigarette lighter in his hand.
On July 24, 2018 the Baxter Springs Fire Department was dispatched to a rural Cherokee County residence, where 68 bales of hay were engulfed in flames. A subsequent investigation by the Cherokee County Sheriff's Office uncovered a turn signal assembly near the blaze. Based on the part number of the turn signal assembly, deputies were able to determine the part was from a 2005-2009 Ford Mustang.
Later the same evening, deputies contacted Piercefield, who was driving a 2006 Ford Mustang near Galena. The vehicle was missing the turn signal assembly. Deputies also located an individual who witnessed Piercefield at the scene a short time before the fire.
"There was a string of these fires earlier this year. Thanks to the thorough investigation by law enforcement, someone will be held responsible for two of those incidents," said Cherokee County Attorney Jake Conard. "Local law enforcement, the State Fire marshal's Office, and the ATF continue to investigate the other incidents. I anticipate additional charges will be filed in the future."
Sentencing in both cases is scheduled for December 7, 2018.