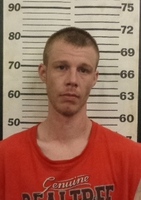 On March 28, 2018 Shawn James Tallant, 30, of Baxter Springs was sentenced to 27 months in the Kansas Department of Corrections for Aggravated Assault of a Law Enforcement Officer and Criminal Threat.
On July 12, 2017 law enforcement was dispatched to a domestic disturbance at a residence on Park Avenue in Baxter Springs. When officers with the Baxter Springs Police Department and deputies with the Cherokee County Sheriff's Office entered the home, Tallant pointed a shotgun at the officers and made verbal threats.
Officers were able to take cover, deescalate the situation, and convince Tallant to surrender. The weapon was later determined to be an air-powered shotgun. Tallant was also charged with making violent threats to his girlfriend and her infant child.
According to Cherokee County Jake Conard, this is the second time in six months a defendant has been convicted and received a prison sentence for pointing an air gun at a law enforcement officers. In January, Mark Best was sentenced to 43 months for using an air gun in a standoff with Cherokee County Deputies. "The intent of the statute is to punish those who use a weapon to cause fear in another. The person looking down the barrel of that gun isn't going to take the time to see if it's a toy," says Conard.