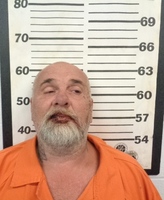 A Scammon man has been sentenced to 36 months in the Kansas Department of Corrections for Aggravated Assault of a Law Enforcement Officer.
In August 2017, two deputies with the Cherokee County Sheriff's Office responded to a residence in Scammon, Kansas for reports of a suspicious subject armed with a handgun. Upon arrival, deputies contacted 52-year-old Michael Eugene Best. As best approached the deputies, he raised a black handgun from behind his back. Deputies were able to take cover, successfully deploy a taser, and disarm Best. The black handgun was determined to be a CO2 air pistol.
Cherokee County Attorney Jake Conard charged Best with two counts of Aggravated Assault of a Law Enforcement Officer. Best entered guilty pleas to both counts in October 2017. Under Kansas law, a CO2 air gun is considered a deadly weapon. "At a glance, the CO2 gun Best pointed at the deputies appeared identical to a real firearm," says Conard.
According to Conard, this is the second case in the last year where a suspect has pointed an air gun at law enforcement officers. "I take these cases very seriously because even a simulated firearm creates a situation where an officer has to make a split-second decision on whether to use deadly force against a suspect," says Conard. "This situation could have ended much worse for Best and the officers. Best could be dead, and the officers would be living with a decision he forced them to make."