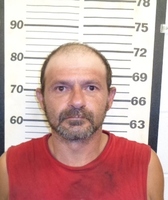 On August 28, 2018, Troy Eugene Maxton, 44, of Baxter Springs, Kansas entered a guilty plea to one count of breach of privacy. At his formal arraignment, Maxton admitted to "putting a camera in an inappropriate place." Cherokee County Attorney Jake Conard, went on to explain to the court Maxton placed a cell phone camera under a bathroom door to take a picture, knowing there was a female juvenile inside.
Detectives with the Cherokee County Sheriff's Office seized Maxton's cell phone and recovered an image of the bathroom floor and door. According to Conard, the Kansas breach of privacy statute makes it a felony to secretly photograph or record any person who is nude or in a state of undress.
Maxton, who faces up to 23 months imprisonment, will be sentenced in Cherokee County District Court on October 24, 2018. As a condition of Maxton's guilty plea, he will also be required to register as a sex offender in any county where he lives or works.